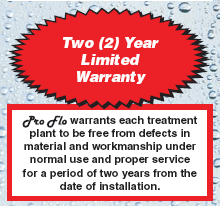 Pro Flo Aerobic Systems, LP warrants the parts in each treatment process/system to be free from defects in material and workmanship for a period of two years from the date of installation treating residential wastewater. Sole obligation under this warranty is as follows: Pro Flo Aerobic Systems, LP shall fulfill this warranty by repairing or exchanging any component part, F.O.B. factory, that in Pro Flo Aerobic Systems' LP judgement shows evidence of defects, provided said component part has been paid for and is returned through an authorized dealer, transporation prepaid. The warrantee must also specify the nature of the defect to the manufacturer.
The warranty does not cover treatment process/systems that have been flooded by external means or that have been disassembled by unauthorized persons, improperly installed, subjected to external damage, or damage due to altered or improper wiring or overload protection.
This warranty applies only to the treatment process/system and does not include any pumping of tanks, residential wiring, plumbing, drainage, or disposal system. Pro Flo Aerobic Systems, LP is not responsible for any delay or damages caused by defective components or materials, for loss incurred because of interruption of service, or for any other special or consequential damages or incidental expenses arising from the manufacture, sale, or use of this process/system.
Pro Flo Aerobic Systems, LP reserves the right to revise, change or modify the construction and design of the treatment process/system for residential wastewater or any component part or parts thereof without incurring any obligation to make such changes for modifications in previously sold equipment. Pro Flo Aerobic Systems, LP also reserves the right, in making replacements of component parts under this warranty, to furnish a component part which, in its judgement, is equivalent to the company part replaced.
Under no circumstances will Pro Flo Aerobic Systems, LP be responsible to the warrantee for any other direct or consequential damages, including but not limited to lost profits, lost income, labor charges, delays in production, and/or idle production, which result from defects in material and/or workmanship of the system.
This warranty is expressly in lieu of any other expressed or implied warranty, excluding any warranty of merchantability or fitness, and of any other obligation on the part of Pro Flo Aerobic Systems, LP.
This warranty gives you specific legal rights. You may also have other rights that vary from state to state.
The manufacturer's warranty does not apply to the following:
Misuse, abuse, or any repair or alteration performed by anyone other than Pro Flo personnel or authorized representatives.
Use of components other than authorized Pro Flo replacement components.
Non-sewage water flows caused by rain or ground water infiltration, storm water infiltration, leakage from improperly maintained plumbing fixtures, water softener backwash/discharge/exhaust, or air conditioner condensation line infiltration etc.
Failure to maintain electrical power to the treatment system in accordance with the requirements of the manufacturer (Pro Flo) or the authorized service representative.
The disposal into the Pro Flo of non-biodegradable materials (i.e. plastics, coffee grounds, etc.), chemicals, solvents, grease, oil, paints, or any other type of non-domestic, non-biodegradable wastewater. See the section in the System Owner's Manual titled "Items that are NOT safe to use in Your New System."
Daily sewage flows into the Pro Flo that exceed the plant's hydraulic or organic design capacities.
Any usage contrary to the Pro Flo System Owner's Manual and/or the Pro Flo representatives' recommendations.